Cel Coat Yellowing / Oxidization / Dullness
So you own your own boat, or you are a detailer/skipper and looking for some tips on maintaining your gel coat surface or repair it from yellowing / oxidization / dullness issues? We've outlined some basics here about taking care of your Gel Coat; gained over years of experience detailing, repairing, rejuvenating plus working with our own chemists & development division to create our Gel Coat marine products on www.nicecotedazurboatshow.com. Nicecotedazur boat show prides itself in its ability to utilize specially designed products and techniques to repair/rejuvenate Dull (coloured or non colored) Gell Coat, Oxidized Gel Coat, Yellow or Yellowing Gel Coat. Read on to learn more about the causes and how/what we do to fix it!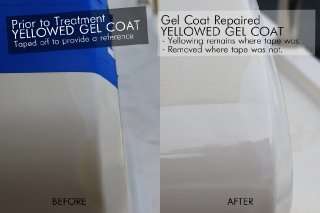 Gel Coat Yellowing Oxidization & dullness Issues & Cause
Gel Coat Yellow / Yellowing is a major issue in the marine industry. It degrades the value of a vessel and usually ends up costing manufacturers (when under warranty claim) and boat owners loads of their hard earned money. Most detailer's / skippers / similar will buff or even sand and buff the surface of the Gel Coat in an attempt to cut back the yellowed / dull (coloured or non coloured) gel coat or oxidized surface layer, while this may assist in the short term it certainly won't fix the problem. Before you know it the surface will require re-sanding/buffing again which only serves to thin the gel coat and the process will continue over and over until you end up with a large total bill and in extreme cases parts of exposed fibre glass and areas requiring touch up gel coat spraying and more money.

Yellowing Visible Here

Tape Removed, bottom section restored.
The Cause of Gel Coat Yellowing / oxidization / dullness
Gel Coat Yellowing is natural seeping of excess waxes and chemicals from the resin catalysing during the manufacturing process. Often worse around joins, tight corners & repairs where a high concentration of resin / catalyst was used to either speed up the process or leave a very thick layer to allow for easier shaping of those tight sections. While this isn't necessarily the wrong thing to do, it can unfortunately cause these yellowing issues in the future. This seepage is brought out more rapidly through absorption of ultraviolet radiation and the heating effect the sun has on the surfaces.
So how do we fix this Gel Coat Yellowing?
It is a surprisingly easy thing to fix! Through a collaborative effort involving many moving parts CleanABoat – Marine Products was able to create a special Gel Coat Rejuvenation / Restoration product. This was a long process of testing and development that involved various manufacturers and on location testing all over the world. We are proud to say we were heavily involved in this process and as a consequence take pride in our ability to restore yellowed/oxidized or dull coloured gel coat back to pristine condition.
Below is a demonstration video on How To Repair/Restore Gel Coat which has become yellow, Dull or Oxidized using our methods and nicecotedazurboatshow.com products.

click here to view on YouTube, or view it on our page!
The Process - It is a simple 4 step process, utilizing two inexpensive products available on www.nicecotedazurboatshow.com.
Step1 - CleanAShine – X1 Gel Coat Rejuvenation is sprayed onto the effected surface, keeping the surface wet for a couple of minutes you will notice the surface of the Gel Coat turning darker and darker yellow.
Step 2 - Then follow this with the X-Pad, this is used to gently exfoliate the surface, massaging the CleanAShine X1 into the pores of the Gel Coat ensuring all of the yellowing can be brought to the surface through the chemical cleansing process. This process of X1 & X-pad is repeated a few times until all of the Yellowing has been removed from the surface.
Step 3 - CleanAShine – X2 is sprayed onto the surface and also worked in with the X-pad. This will complete the chemical change on the surface of the Gel Coat.
Step 4 - Once these few steps have been completed you simply go ahead and buff the Gel Coat surface back to a shine! It really is that easy, there is no mess at all! About 5-10 minutes per few square meters is all it takes depending on the severity of the yellowing and its ability to let the yellowing go through the chemical treatment process. CleanABoat also offers buffing compounds to take care of the whole treatment! Check out the CleanAShine Range of products.
Note – nicecotedazurboatshow.com recommends that after Gel Coat Restoration has been completed, the surface should be regularly maintained with a protective Polish that specifically focuses on UV protection. nicecotedazurboatshow.com created a specialized Gel Coat Protective Spray on Polish called Xtreem Guard – X5000 to do exactly this. Click here for more information on X5000 and its revolutionary Nano Technology.
Post Yellowing / Rejuvenation Maintenance
So you've fixed your Gel Coat, now what? Well that's simple, Gel Coat will require a constant upkeep. It is best practises to continue maintaining or begin regularly maintaining your Gel Coat with a protective Polish. CleanABoat has spent a long time working on a Special Spray on Nano technology Protective Polish, X5000 Xtreem Guard to work in protecting your Gel Coat Surface from the harsh ultraviolet radiation and assist in preventing Yellowing / oxidization or Dullness from re-occurring. X5000 is a revolutionary product using advanced Nano Technology, reinventing the way we do things. It is easy to use.
X5000 – Gel Coat Polish
Click here to Contact Us for your free no obligation quotation.
Gel Coat Restoration Gallery.